Shop with Zilch everywhere.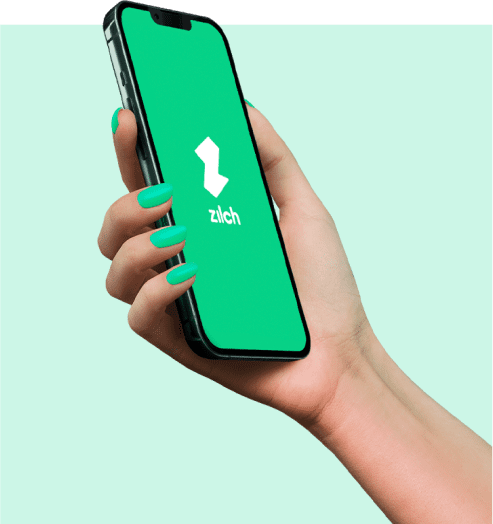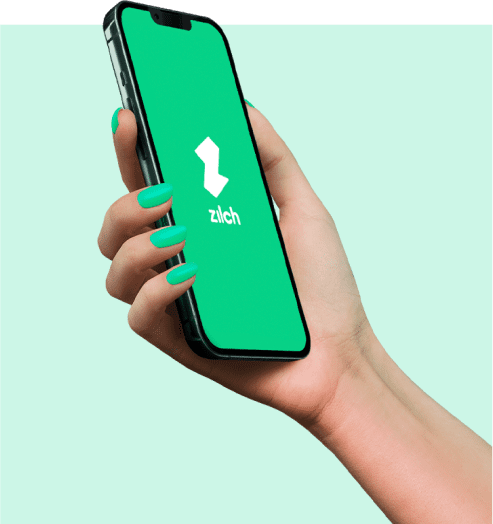 With Zilch, you can shop wherever Mastercard is accepted. The app allows you to easily manage your payments and more.
Download the free Zilch app.
Download Now
Getting started.
4 simple steps to get you going.
1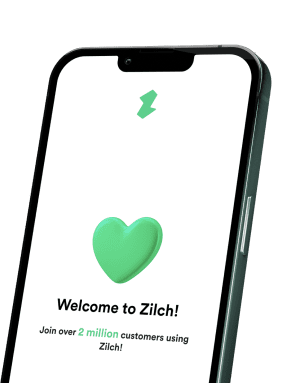 Get our app.
Once you've downloaded the Zilch app, sign up by hitting the 'Get started' button.
2
Add your personal details.
We just need a few details including your name, address, phone number, date of birth and email. Then agree terms and conditions.
3
Verify your account.
We'll ask you for a few more details:
1. Verify your email
2. Add your debit card
3. You may need to verify your ID
4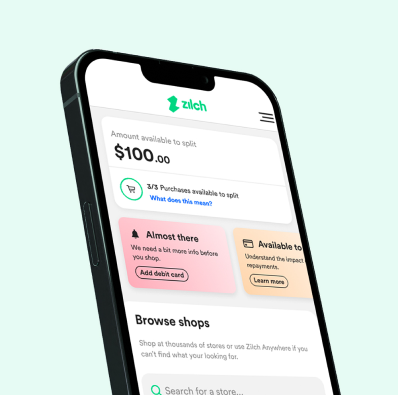 Look out for the email.
We'll immediately show you your
available spend for Pay over 6 week
purchases.
Using the Zilch app.
1.
Search for your store.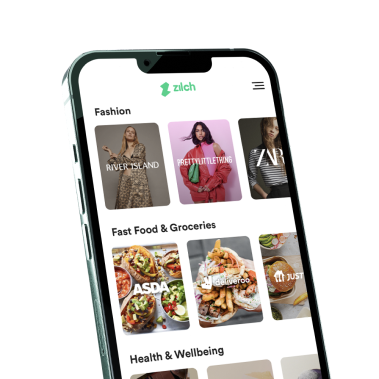 2.
Choose how you want to pay.
3.
Enable your Zilch card.
4.
Checkout with your Zilch card.
What are Zilch Rewards?
Rewards are Zilch's way of rewarding you, helping you save on your next
purchases.
One Reward equals one cent. So for example, 234 rewards is $2.34.
You can use your Rewards whenever you want, simply select the Zilch
Rewards tab before you enable your card. We'll then put your Rewards
towards your next purchase. Simple.
You can earn Zilch Rewards when you refer a friend and they make their
first purchase. You can also get 2% cash back in Zilch Rewards whenever
you pay in 1.
Also, remember that Zilch Rewards are non-refundable and any purchases
made through rewards cannot be sent back, so spend wisely!
How do I finish signing up to Zilch?
Here's what you'll need:
A valid US debit card
A US mobile phone number
An email address
Also prep these docs:
Government issued photo ID
Proof of address (needs to be dated within the last 3 months)
P.S. Your proof of address doesn't need to match your debit card's billing
address. For example, if you're at Uni and your debit card is registered at
your non-term time address, no worries —we'll still accept it!
Lastly, just snap a selfie holding up your photo ID then upload.
What type of cards can be linked to my Zilch Virtual Mastercard?
You can link any US-issued debit card to your Zilch Virtual Mastercard as
long as the account is in your name.
We're all about responsible spending and we have this measure in place
to ensure that you are the only one using your account.
You cannot link the following card types with your Zilch Virtual
Mastercard:
Debit cards from outside the US
Corporate cards
Credit cards
Prepaid credit cards
Gift cards
Proxy cards